Little Pioneer 2023: Beautiful Spring, Qingming Holiday Parent-child Cycling: At the foot of the Great Wall, 10000 mu Guihe Park, the most
"Nothing compares with the simple pleasure of bikeride" – John F.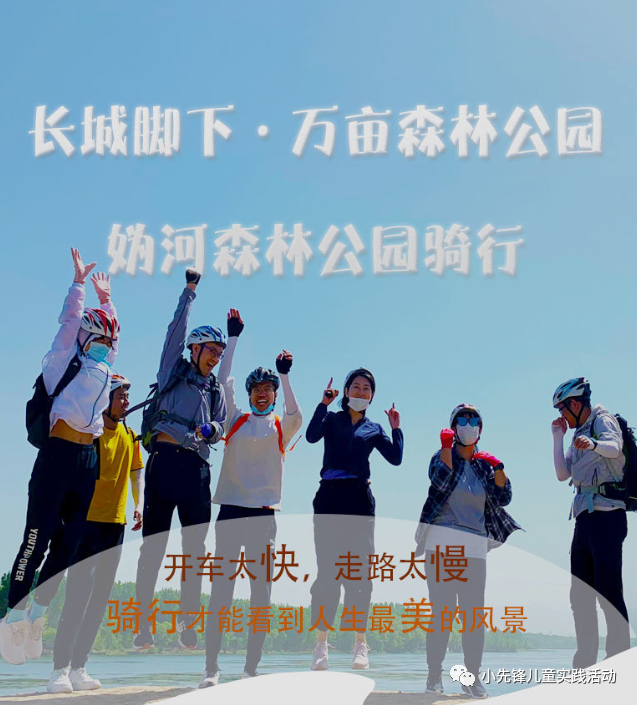 Kennedy's most beautiful flower season in 2023 has arrived, and the suburbs are already full of spring and colorful colors, making it the best riding season of the year ✌ Little Pioneer's most popular "Drunken Beauty Spring Day Guihe Forest Park Parent-child Happy Riding Activity" was booked in advance over the weekend.
Each event has a limited number of seats, first reported, first served! Continue to use the good time of parent-child on weekends, accompany your family, and ride with your friends to the suburbs to relax.
Just in the right spring, devote yourself to nature, take a deep breath, lighten and decompress! Immersed in the fragrance of birds and flowers, young pioneers gather by the Guishui River in Yanqing in spring.
In the picturesque and tranquil forest park, between the boulevards, parents and children ride.
There is no urban hustle and bustle here, accompanied by wild flowers, the clear and cool lake surface, and the faint shadow of fish.
Continue our fun of riding all the way, singing all the way, and experiencing the taste of spring together.
Yanqing Guihe Forest Park is a veritable forest oxygen bar, with lush cycling trails, accompanied by scenery all the way, and riding a bicycle, you will feel closely integrated with nature, with the wild charm/spring atmosphere in the suburbs, On holidays, I join my family in nature and watch all things spring into full bloom.
After a sour day of cycling, I radiate infinite spiritual vitality! Spend this warm weekend/holiday parent-child time together! Walking into the spring forest, taking a deep breath, listening to the birds singing, and riding in the apricot flower garden – the most distinctive feature of the activity: staying away from the hustle and bustle of the city, riding in the Guihe Forest Park – Guanting Riverside Zone (Yanqing), rarely disturbed by others, has entered the best flower season here.
Little Pioneer has been riding the most classic route for parents and children in spring for many years.
The scenery along the way is endless.
The whole journey is mostly accompanied by apricot blossom forest/lakeside/Guanting Coastal Zone (Yanqing), with birds singing and flowers fragrant, lakes and mountains beautiful.
The entire route is about 16-18 kilometers, with relatively flat roads and occasional uphill and downhill slopes; Sometimes you ride along the Gui River, sometimes you shuttle through the woods, sometimes you drive on a wooden plank road…
Different road sections require different riding skills, and you can reap different riding joys and experiences.
Professional cycling vehicles (including adult mountain bikes, children's mountain bikes, parent-child baby bikes, etc., and cycling equipment – helmets/gloves), with a small pioneer teacher leading the entire ride and timely parent-child game interaction, bring parents and lovely children good outdoor sports on weekends, and have a great mood all the way! Relax and enjoy the beautiful scenery all day! Riding for 18 kilometers, the road is relatively flat, occasionally uphill and downhill; Sometimes riding along the Gui River, sometimes shuttling through trees, sometimes driving on wooden plank roads…
Different sections of the road require different riding skills to switch, harvesting different riding fun and experiences.
And riding and beautiful scenery can be parked everywhere, making sports easy and relaxing.
Come on, take a good mood and make an appointment for the 2023 Spring Day Little Pioneer Cycling Season.
Let's ride happily together amid the blooming spring flowers! (The above picture is from a live shot of the Little Pioneer's fun riding on the Guishui River.
Riding in spring is relaxing and relaxing, and sports are relaxing.) [Activity Name] Little Pioneer 2023.
In April, spring is beautiful, and parent-child riding on weekends: At the foot of the Great Wall, in the Guihe Park, The most beautiful spring flower season is a happy and fun one day trip (on Saturday, April 1st, and Sunday, April 2nd, buses+moderate self driving) [Event planning and customization consultation] Xiaoxianfeng Tianma Tel: 13611361777 (WeChat same number) [Site leader teacher] Bus leader: Xiaoxianfeng Tianma/Miao Miao teacher/Xiaoying teacher, randomly arranged; Guihe River Cycling Team Leader and Riding Teacher: Little Pioneer Wanzi Teacher [Activity Type] Parent-child Cycling [Age Requirements] Children aged 7 years and above who are proficient in cycling (children with a height requirement of 1.2 meters or more), adults.
Families who do not know how to ride a bicycle can choose a tandem/parent-child bike (with a baby chair).
Single flight registration for children over 9 years old is accepted.
[Activity Time] 08:00-16:50 [Activity Location] Yanqing Ecological Wetland Corridor Cycling Corridor (One of the most beautiful riding routes in Yanqing: Guihe Forest Park, affectionately known as the Rhine River in Beijing.) [Transportation] Bus+moderate self driving.
Special Note: Buses with 15 people in size can travel.
The adult and child mountain bikes and riding helmets used for cycling are provided by the organizer and received at the event site on the same day.
[Number of participants] Each event: 10-15 parent-child families, 8 families (or above) in bus groups, and children aged 9 or above are accepted for the Guihe River Riding Event to register for solo flights (bus).
[Time and Place of Gathering] Bus: 07:50-08:00, subway Jiandermen (Line 10), southeast exit C, left bound, 100m auxiliary road.
Self driving family: 09:20-09:30 am, Yanqing Cycling Activity Site (location of the parking lot the day before the leader's activity) [Activity Plan] 08:00 – Bus group Jiandermen subway exit C auxiliary road, the leader teacher is responsible for signing in and assembling.
The bus departs on time, and the tour leader briefly introduces the contents of the day's activities during the driving process.
The kids have a regular warm-up session, laughing and laughing all the way, and the roadside light is full of apricot blossoms! 09:30 – Starting point for cycling in Yanqing Wetland Park, parking lot, self driving families and large forces gather: each takes mountain bikes, protective equipment, etc.
The riding instructor will briefly introduce the activity process, vehicle use, and basic safety knowledge during riding, explain precautions, learn basic knowledge about riding queues, etc., debug their vehicles in place, and prepare for departure ✌ 10:00: The wetland ecological park has a picturesque cycling path, with parents and children riding through the painting, experiencing the wonderful feeling of "walking between heaven and earth, dissolving in nature".
.