A 24-year-old Hong Kong man rode 39 days to Beijing and finally realized his wish
It lasted 39 days, traveled through 9 provinces and cities, and rode nearly 3000 kilometers from Guangdong to Beijing.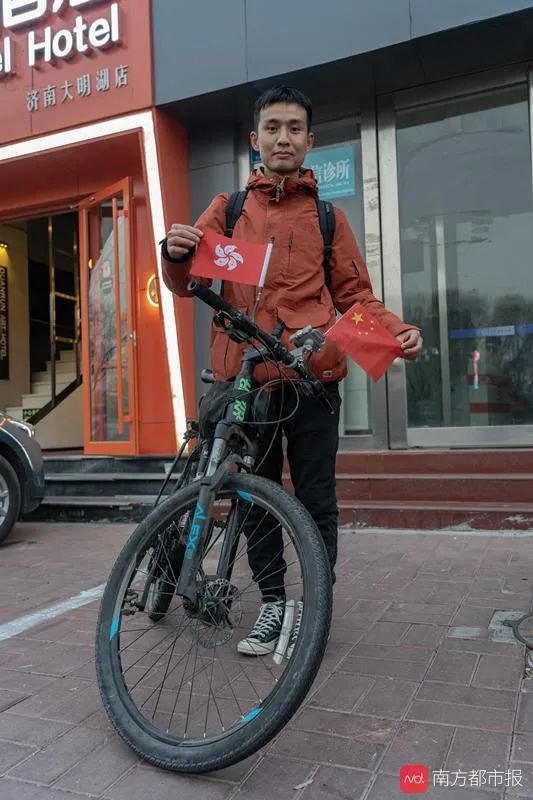 What's all this for? The answer given by a Mao, a 24-year-old Hong Kong Youth, is: just to see the flag raising of Tiananmen Square for the first time in 2021.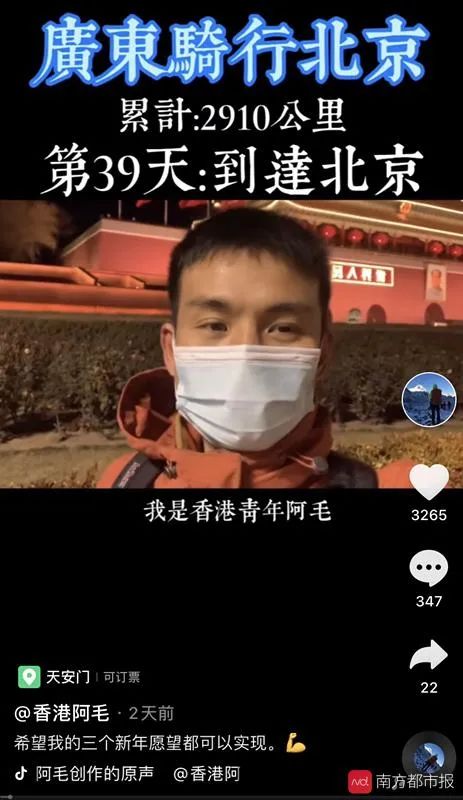 On New Year's day in 2021, he finally realized this wish.

His story of riding from Guangdong to Beijing has also attracted the attention and praise of many netizens.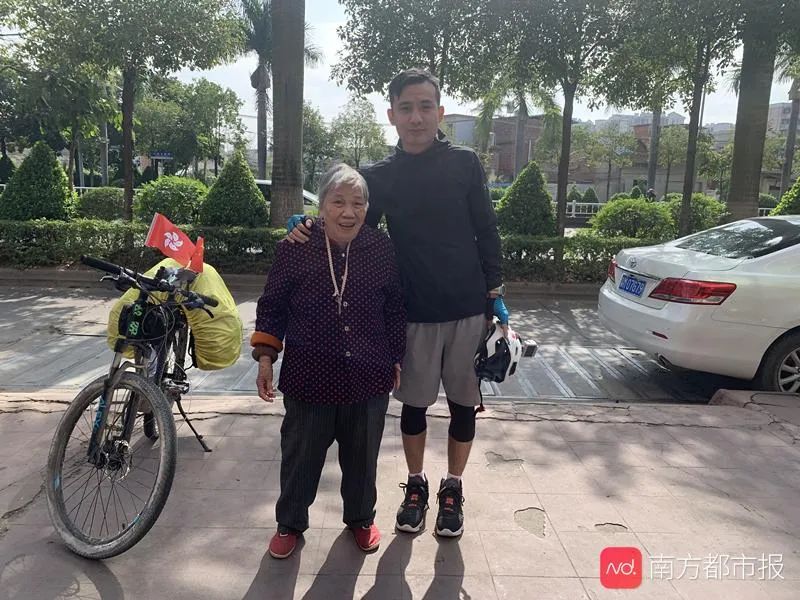 Hong Kong Youth Mao on the journey.
"After waiting for nearly four hours in Tiananmen Square at minus 13 degrees Celsius, I finally waited for the time to raise the national flag.
In the surging crowd, I only had the solemn national flag in my eyes and no more distractions in my heart.
The scene was so shocked that people burst into tears.
At that moment, I felt that this trip was worth it." Mao Nandu reporter recalled.
Born in 1996, Mao, whose ancestral home is Heyuan, Guangdong, is the third generation of immigrants from Hong Kong.
He once studied undergraduate at Zhongnan University of economics and law.
"Hong Kong Mao" is his online nickname, his real name is Lai Du, "Lai of" trust "and" Du of "capital" On January 2, Nandu reporters talked to a Mao traveling in Beijing.
He told Nandu that he witnessed a long storm of violence in Hong Kong in 2019, which made him deeply aware of how little young people in Hong Kong know about the motherland.
"I hope to encourage young people in Hong Kong to visit the mainland in person and understand the real motherland.".
"Nandu dialogue" waited four hours in the cold wind just to watch the flag raising in Tiananmen Square.
Nandu: why do you want to ride from Guangdong to Beijing? What preparations have you made for this? Hong Kong Mao: I've always liked traveling by bike.
In 2019, I lived in Hong Kong, which was deeply in turmoil.
At that time, I didn't find a job and fell into confusion for a while.
I remember sitting on the bus one day and accidentally brushing the video of rock star Huang Jiaju on his mobile phone.
He once said, "when a young man reaches out to the society for something, ask yourself what you have given the society." At that time, I also asked myself, what can I do for this society? I was thinking that I like cycling so much that I might as well know the motherland through cycling and let more young people in Hong Kong know the motherland through my experience.
With this initial intention, I had the idea of riding to Beijing from Heyuan, Guangdong, my hometown.
At that time, I also bought a lot of photographic equipment, including drones, and learned video clips from scratch.
However, due to novel coronavirus pneumonia outbreak, my riding plan has been delayed.
By the end of 2020, I felt no longer waiting.
If I don't do it now, I may not have the courage to do so in the future.
In mid October 2020, I passed the customs from Hong Kong to Guangdong and received a 14 day quarantine.
Just at the end of the isolation period, while preparing for departure, there was a small episode.
I accidentally sprained my leg and had to rest for nearly 20 days.
As soon as I recovered from my injury, I couldn't wait to embark on a cycling trip.
Nandu: can you introduce this journey? What unforgettable experience did you have on the way? Hong Kong a Mao: this journey officially began on November 23, 2020.
I passed through Guangdong, Fujian, Zhejiang, Shanghai, Jiangsu, Shandong, Hebei and Tianjin, and finally arrived in Beijing in the evening of December 31.
The whole journey was 2910 kilometers and took 39 days.
I think the most unforgettable thing on the way is people.
I remember that at noon on the day I arrived in Meizhou, Guangdong, I had ridden more than 100 kilometers.
I was tired and hungry.
I met a vegetable restaurant that was closing.
The old lady who operated the restaurant entertained me with a lot of dishes and exempted me from my list.
When she heard about my riding plan, she kept stuffing money and fruit into my hand.
She said that her grandchildren are working hard in other places.
She understands that it is not easy to live alone in other places, which makes me surprised and moved.
In Ningde, Fujian Province, I met a man of similar age.
Interestingly, I was riding from the south to Beijing, but he rode from Beijing and planned to go all the way to Hainan Island.
On December 31 last year, we arrived at our respective destinations on the same day, shared our positions with each other, and had to lament this magical fate.
I also met an old man who has worked hard in Beijing for 20 years.
After retirement, he drove a tricycle to visit more than 10 provinces and cities in the motherland.
The tricycle has become his "mobile home".
He shared his experience along the way with me.
I like the meeting and communication between people.
I will get a lot of inspiration from it.
Nandu: on New Year's day this year, what was the situation when you watched the flag raising in Beijing's Tiananmen Square? Hong Kong a Mao: I arrived in Beijing on the evening of December 31 last year.
I rode more than 90 kilometers that day and was very tired, but I couldn't wait to take a look before riding to Tiananmen Square.
That sense of solemnity immediately came to my mind.
I only slept in the hotel for more than three hours that night.
At about 3 a.m.
the next day, I got up and lined up outside Tiananmen Square.
It was very cold in Beijing that day, only minus 13 degrees Celsius, but I found that there were a lot of people waiting for the flag raising ceremony like me.
At 6 a.m., Tiananmen Square was open for admission, and many people rushed to the flag raising platform at the speed of 100 meters.
The flag raising ceremony of the day began at about 7:30.
At the moment when the national anthem was played, everyone quieted down, whispered the national anthem and paid attention to the national flag.
Although I didn't know how many times I watched this scene on TV, when I was really in it and became a close participant, the feeling was very different.
In the surging crowd, I only had the solemn national flag in my eyes and no distractions in my heart.
The scene was so shocked that people burst into tears.
At that moment, I felt that this trip was worth it..