Millions of fans cycling bloggers, lost their car! Hong Kong Police Response
On March 9, A Qiu, a Chaoshan cycling blogger with millions of fans, released a video saying that his bicycle was stolen in Mongkok, Hong Kong, causing widespread concern.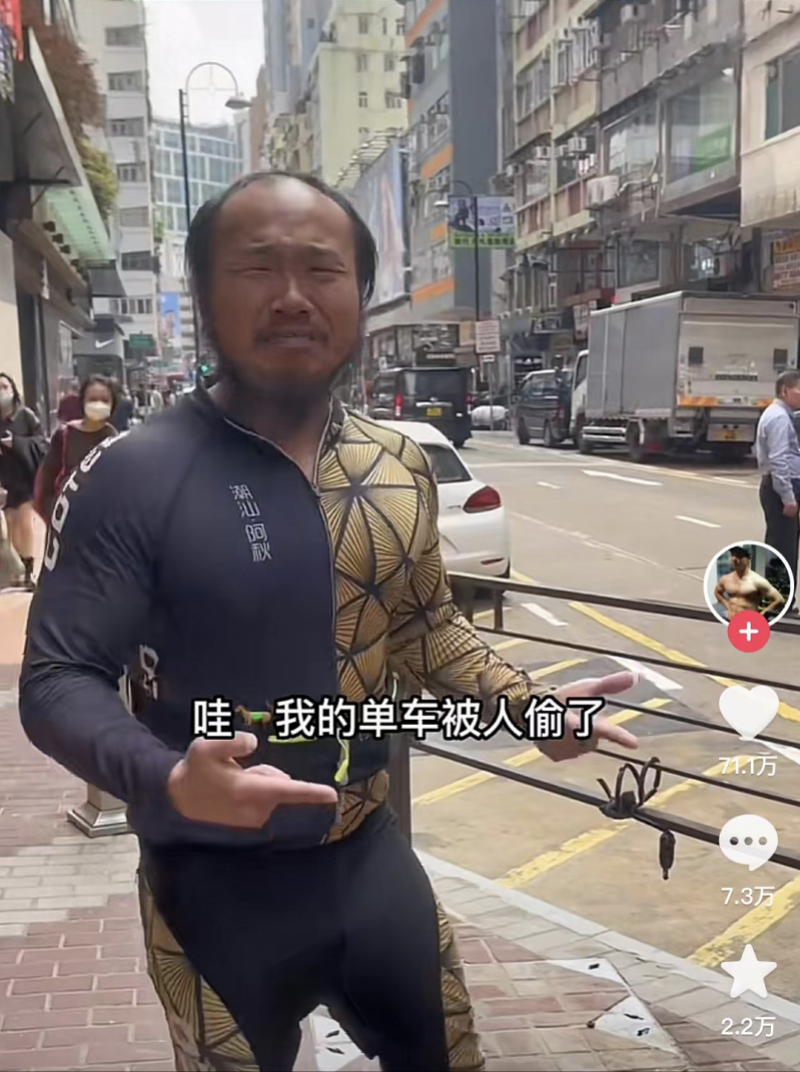 Nandu reporter learned that on the evening of the 10th, Hong Kong police have arrested a man suspected of stealing Akiu's bicycle.
It is reported that the man who stole the car has sold his bicycle worth 8000 yuan for more than 700 yuan.
A Qiu said that although he had not yet recovered his bicycle, many Hong Kong residents comforted him not to be sad and even offered to send him a new car to continue riding, which moved him very much.
At the next stop, Akio plans to leave for Macau.
Chaoshan cycling blogger Aqiu.
On March 9, online celebrity Akiu released a video in Tiktok saying that she locked her bike on the street of Mongkok in Hong Kong on March 8.
The next day, she found that the lock was cut and her bike was stolen.
After Ah Qiu called the police, the police quickly called out to inquire about the situation and took the car lock back to the police station, asking him to wait for the results of the case investigation.
In the video, Aqiu said that this was the first time that his bicycle had been stolen since he rode in 2019.
The reporter from Nandu learned that in September 2019, Ah Qiu released his first video in Tiktok, recording the story of riding in China.
At that time, he set out from Chaoshan, Guangdong, and arrived in Anshan, Liaoning, all the way north.
Now, Ah Qiu has 1.242 million fans in Tiktok.
According to Hong Kong media reports, officers from the Criminal Department of the Mongkok Police District of Hong Kong arrested a 45-year-old local man surnamed Hu on the evening of March 10 at Tung Choi Street in Mongkok on suspicion of theft and are currently being detained for investigation.
The local man surnamed Hu admitted to stealing the bicycle from "Chaoshan Aqiu" and has been sold in Shenshui Po.
The police have not recovered the bicycle involved, but are tracing the whereabouts of the vehicle.
In the early morning of March 13th, A Qiu, who temporarily returned to Shenzhen due to the expiration of his passport endorsement, opened a live broadcast and told netizens about his experience.
"The stolen bicycle was worth 8000 yuan and was sold for 700 yuan," he said.
"But what moved him very much was that the Hong Kong police have been trying their best to track down the whereabouts of the bike." Many Hong Kong citizens also told me not to be sad, and some people said that if they needed sponsorship, they would like to buy me a new bike.
They are really good and very grateful to everyone.
".
He said that although the bicycle had not yet been found, he had planned to leave for Macao at the next stop.
Nandu reporter learned that the theft of Aqiu's bicycle has been hot searched on multiple social platforms.
"Interestingly, many netizens have asked me to find singer Eason Chan in the comment area, who has a 'bicycle'." A Qiu talked about this' bottleneck 'in the live broadcast and sang Eason Chan's song' Bicycle '.
Even though it was already 3am, there were still over 8000 people in its live broadcast room.
Faced with a question from netizens about whether to bring goods after becoming popular, he said, "Currently, the income depends entirely on the rewards offered by netizens in the live broadcast room, but in the future, if there are good products that come to me to bring goods, then I will definitely make money with them." Nandu reporter Wei Juanming, Zheng Xuanzhen, intern Fu Bingjie, Nandu Junte Chosen (with the title below), Nandu News, and N Video reported a big move! For children from families with two or three children, 10 points can be added to the middle school entrance exam.
More than one company is eager to speak up! Guangzhou Zoo responded by lighting up attention ↓↓.
.