Riding a mid and high-end car in the hot "bicycle economy"
You can click the public account above and "follow", so you can receive our latest content for free.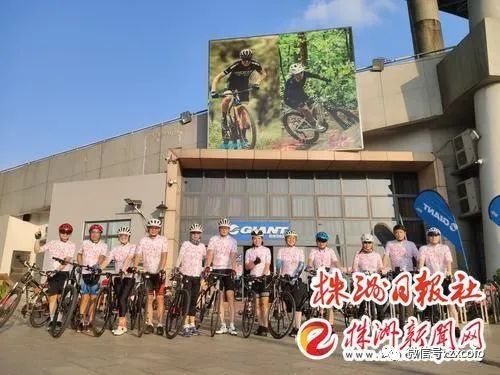 Thank you for your support! [Source: Zhuzhou News Network Minsheng] Ready to go cyclists.
(Interviewee's photo) Zhuzhou Evening News financial media reporter/Liu Fang and Zhang An must have never thought that when she was in high school, she thought she was very good at riding 800 yuan Giant.
Now she has a bicycle worth 30000 yuan.
Zhang An, a post-90s cyclist, has joined the cycling army since last year.
In less than a year, her mount has been upgraded from 1000 yuan to tens of thousands of yuan.
Recently, the reporter visited and found that, with the continuous heating up of cycling, the bicycle sales market was "detonated", and many bicycle brands sold 10000 yuan bicycles for one, even "one is hard to get".
Charm of cycling: Sports+Social On September 11, in Wanfeng Lake, Tianyuan District, a group of cycling enthusiasts wearing helmets and cycling clothes drove forward quickly with their feet staring at bicycles of various styles.
Nowadays, such cycling activities are more and more common in Zhuzhou.
"Since the establishment of the group in 2015, there have been nearly 100 group members, with about 20 people riding every night." A group of cyclists in Zhuzhou introduced that there were cyclists of all ages in the group, the oldest of whom was over 70 years old.
When the weather allowed, cyclists would organize night riding in the city every day and small and long distance riding on weekends.
In 2012, Yi Weiren joined the cycling group for sports and fitness.
"At that time, I spent more than 3000 yuan to buy a Giant 318, a bicycle specially designed for riding the 318 National Highway into Tibet, which weighs only 17 kg." Recalling his first car, 55 year old veteran cyclist Yi Weiren sighed with emotion.
This bike accompanied him for more than 20000 kilometers.
The farthest one was to Nanyue, with a round-trip distance of more than 260 kilometers.
Later, Yi Weiren decided to change the car because he felt "left behind".
"As soon as others said to speed up, they rushed out with all their strength.
I accelerated more slowly than others." Without a good car, it means that the speed will be slower under the same technology and work conditions.
Therefore, in 2017, he began to study the wheel set and frame, combined with his own experience and that of senior riders, and spent more than 10000 yuan to upgrade the mount.
For cyclists, commuting and leisure sports are the main purposes of riding.
At the same time, cycling also has certain social attributes.
"When I first bought a bike, I rode alone.
Later, I joined the cycling club.
It was more interesting for everyone to ride together, and many new routes were unlocked." Li Zhe, a cyclist, has two bikes.
He rides a road bike during the night race and a mountain bike when traveling around.
He can ride more than 100 kilometers a day at most.
How hot is riding? According to Ma Fengwo's data, the riding data of Sichuan, Yunnan, Hainan, Tianjin, Tibet and other places have all soared by more than 50% during the May Day holiday this year.
Among them, the riding heat around Fuxian Lake in Yunnan increased by 100%, and that of Wanning in Hainan increased by 68% year on year.
Social media is also contributing.
As of August 31, there were up to 1.29 million notes related to "riding", more than 70000 notes related to "road vehicles" and more than 50000 related goods on the Little Red Book platform.
"One bike is hard to get": with the growing number of cyclists, the bicycle market has also seen the phenomenon of "one bike is hard to get".
Recently, the reporter visited many bicycle brand stores in Zhuzhou and learned that many models were out of stock.
Bicycle sales in some stores increased by about 50% year on year, with entry-level bicycles of about 4000 yuan and high-end bicycles of about 15000 yuan selling best.
In the Hexi Sports Center of Giant, the reporter saw that there were many vacancies on the shelves and many models were sold out.
"The annual sales volume will increase by 100% in 2021, and the sales volume of the previous year will be completed in May this year." Madeley, the store manager, told the reporter, "In addition, some popular models are in short supply, and we don't know when they will be available for booking.
Several regular customers paid a deposit in March, and some still paid tens of thousands of yuan in full, but they still haven't got the car." When the reporter browsed the official stores of major brands, he found that many models were not on sale, and was also told that the arrival time could not be determined after inquiring about customer service.
At the same time, in the comment area, many consumers said that online shopping lacked experience, and they had to pay for loading in the car store after receiving the goods.
It was easier to buy directly in the store, and the after-sales service was also better.
Wang Qing, a cycling enthusiast, told the reporter that since April, she wanted to buy a brand of Pingba road bike, but the official website and offline stores were out of stock.
In the end, she could only choose a mountain bike with stock.
In the past, the frames purchased by Riding Friend Li Zhe were exchanged nationwide in stores, and they were available in about a week.
However, he found that since May, the situation of stock shortage has become more and more serious, and more and more riders can't buy a car even if they have money.
"Under the influence of the epidemic, the production of bicycle accessories declined, and the whole vehicle could not meet the market demand." Madeley told the reporter that no matter the well-known traditional bicycle brands Merida and Giant, or the high-end line of Lightning and TREK, there were no goods available for sale.
The reporter found that some frames sold for tens of thousands of yuan are out of stock now.
"Since the epidemic, the shortage of high-end models has been nothing new.
For example, some carbon fiber cars and high-end cars with a price of more than 10000 yuan have to wait, and some have to wait in line for a year." Madley said.
There are more than five figures of cycling equipment in place.
According to Meiqi.com, at present, the main group of cyclists is young and middle-aged people aged 18 to 40, accounting for 69.89%.
Users who insist on weekly high-frequency cycling have reached 70.12%, which directly drives the upgrading of relevant equipment..