Non motor vehicle comprehensive insurance for riding
"Riding my beloved motorcycle, it will never be blocked~" In recent years, the emergence of electric vehicles has greatly facilitated the travel of residents, and it is economical, so almost every family has a non motor vehicle represented by an electric vehicle, but its related traffic accidents have also increased dramatically.

It is not a small expense for ordinary families, ranging from bumps and bumps to accidental death/disability, and some accidents such as accidentally bumping into others and causing losses to others.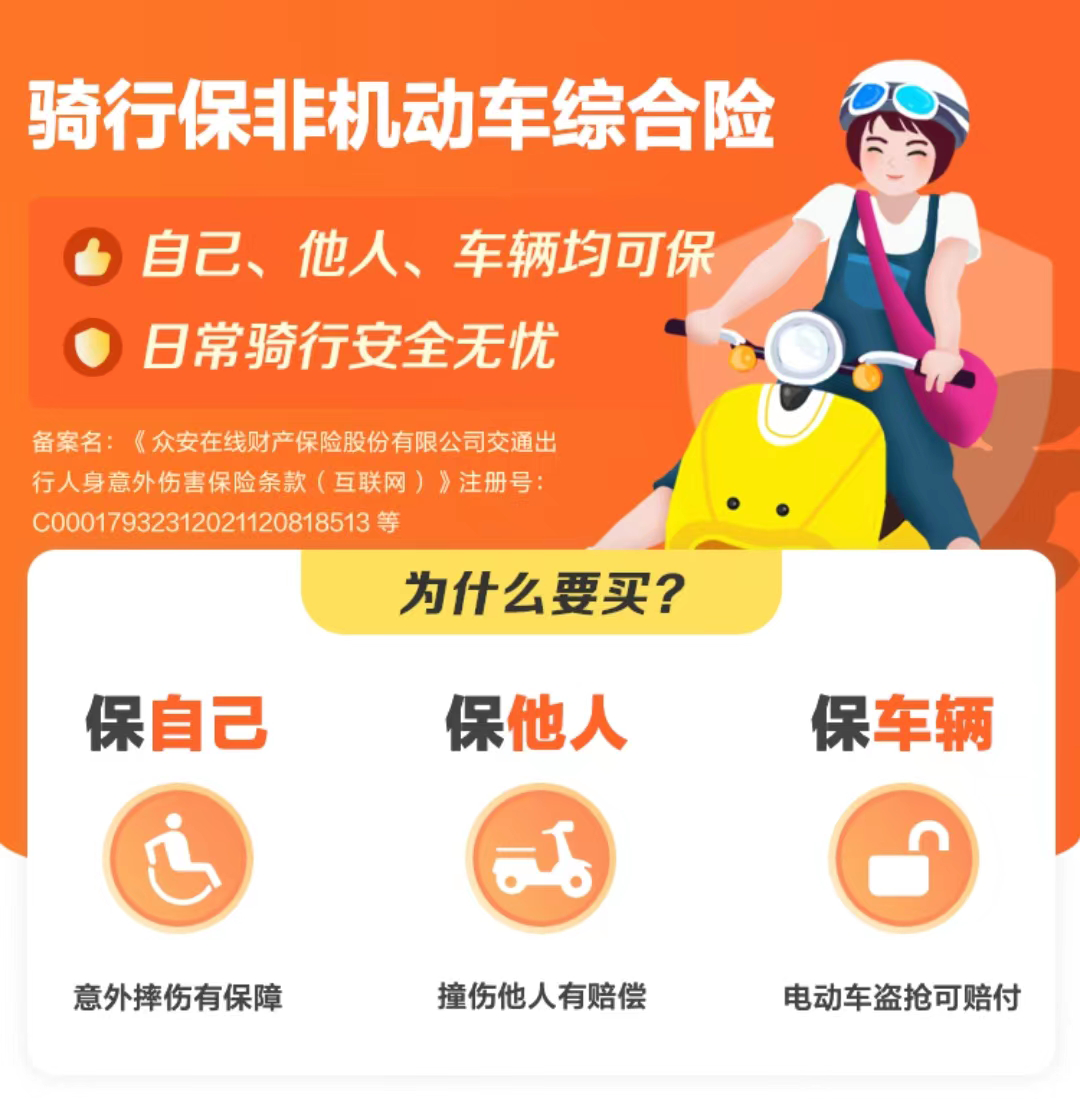 Statistics show that the number of non motor vehicle traffic accidents in China will be 29969 in 2021, a year-on-year increase of 2% compared with 2020.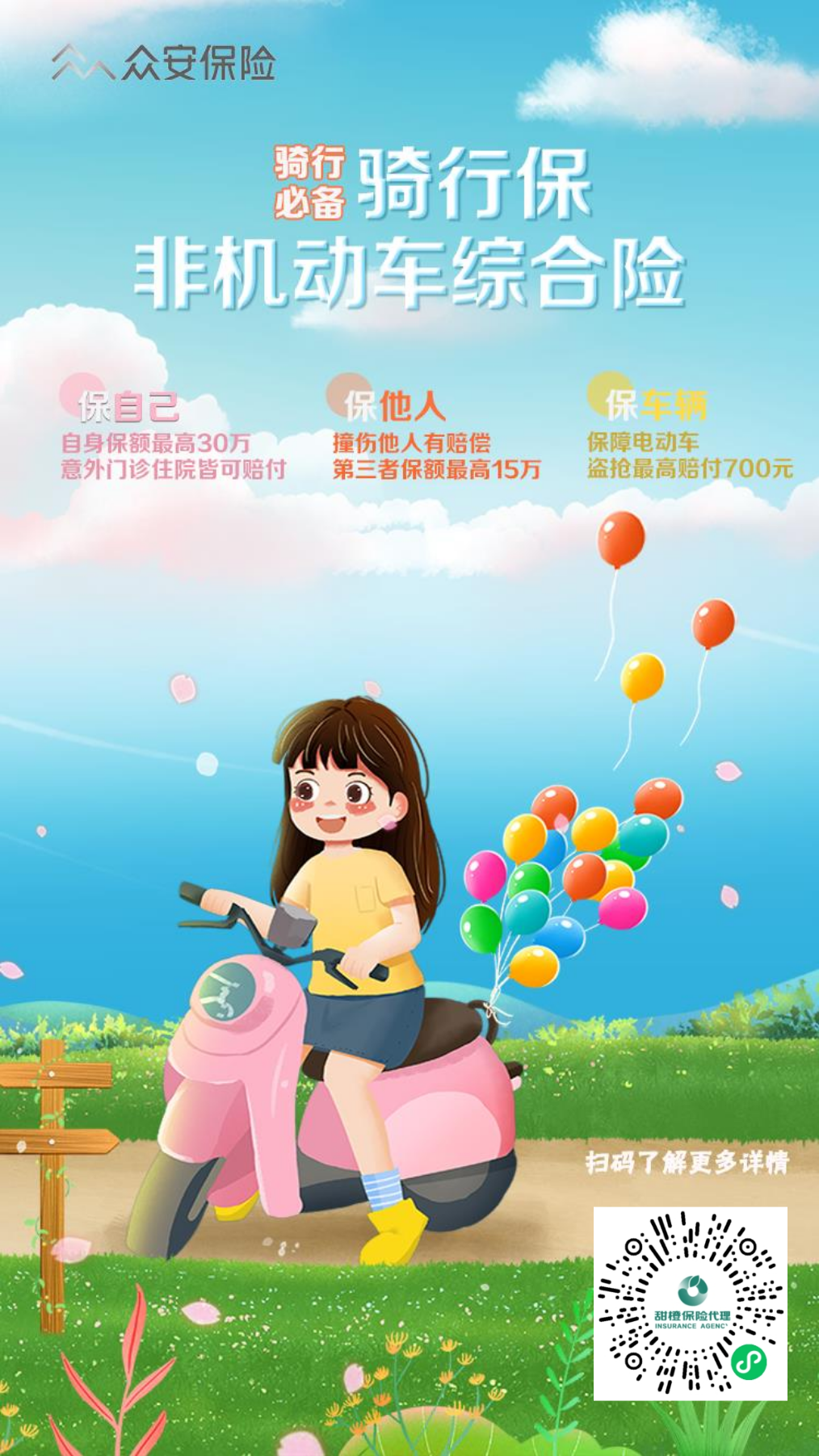 What is more noteworthy is that most electric bicycles do not have insurance, and it is difficult to protect the legitimate rights and interests of victims in case of traffic accidents.
Especially for low – and middle-income families, once serious injuries occur, the contradiction of "responsibility and incompetence" will be highlighted.
In view of the increasing trend of electric bicycle accidents in recent years, in order to help non motor vehicle drivers take advantage of the strength of insurance companies to buy third-party liability insurance, personal injury insurance and property damage insurance, and improve the rescue and compensation capacity, the Sweet Orange insurance agency platform under Yipay has recently launched – bicycle insurance for non motor vehicle comprehensive insurance.
Non motor vehicle comprehensive insurance can provide a variety of riding risk protection for bicycles, electric vehicles, shared bicycles, etc.: protect yourself, and protect against accidental falls; Protect others, and compensate others for injuries; Guarantee vehicles, electric vehicle theft and robbery can be compensated; The non motor vehicle comprehensive insurance for cycling covers three types of service plans: the basic plan, the deluxe plan, and the premium of the premium of the basic plan is only 54 yuan.
The plan includes insurance items such as accidental injury death, disability, accidental medical treatment, accidental death/disability of a third party, and accidental medical treatment of a third party.
The premium plan can provide self insurance coverage of up to 300000 yuan, and third-party insurance coverage of up to 150000 yuan.
In addition, both outpatient and inpatient insurance can be compensated, Ambulance expenses incurred during riding can also be compensated.
(* The compensation statement and liability exemption statement shall be subject to the "Insurance Notice" and "Liability Exemption Statement") Now log on to the home page of Yipay APP, and select "More – Sweet Orange Insurance" in the service function area to purchase non motor vehicle comprehensive insurance products for cycling insurance.
Again, I remind you that whether you ride an electric bicycle or walk, you must pay attention to safety on the road, not only for others but also for yourself!..