Incomplete introduction to Spring Festival cycling in Hangzhou
The first choice is Peng YuYan's same wind breaking weapon – road car.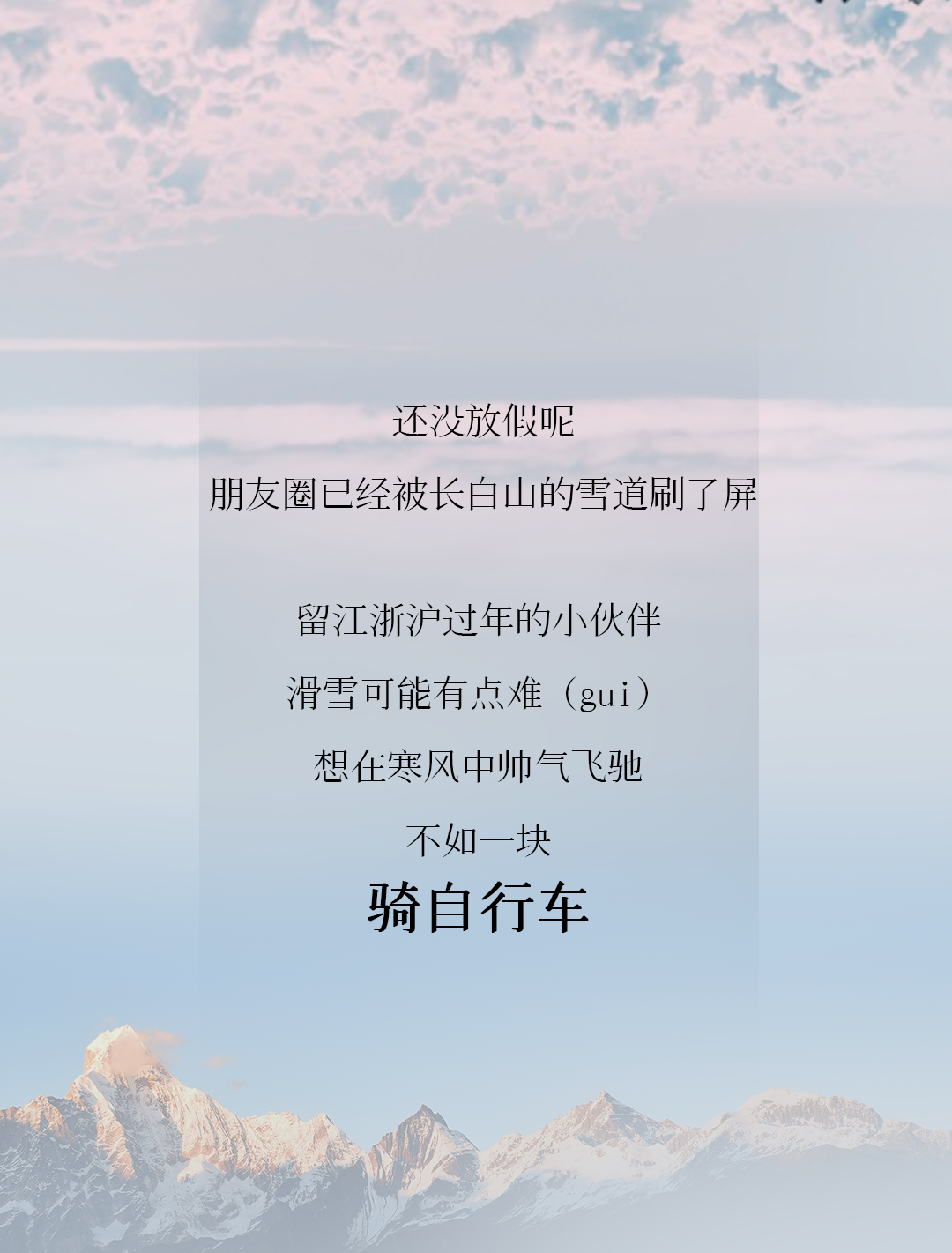 Bend handle, thin wheel, hard fork, light weight, high efficiency, rigid and fierce.
The road car is the F1 of bicycle.
The radical riding posture can ignite every inch of your muscles.
Armstrong, the former Tour de France champion, and Zhong Angel / Bao Shanju, the track cycling champion of the Tokyo Olympic Games, all ride the same road beasts.
[recommended riding route of Hangzhou highway] Ping Road: around Qiandao Lake / South Bank of Zhijiang river / Wengjin line / climbing around Xixi Wetland: Meiling / Longjing / Linfeng Mountain / anding mountain is in Hangzhou with construction sites everywhere.
Being a mountain horse party is the most conservative choice.
If you want to play a heartbeat, liberate the mountain bike from the commuter road and have a real outdoor challenge.
Whether it's forest crossing or mountain downhill, mountain bike is used for wild! The most elegant route of riding back to the ancient mountain in Hangzhou is recommended by Jiuwu / the gentlewoman in the era of returning to the ancient mountain.
It's beautiful to ride a retro bike by the West Lake and the old city.
Unfortunately, Xiaobian has no female riding friends.
In winter, many riders shut down their cars for the winter.
Of course, some local luxury riders solve their "foot addiction" at home through the intelligent riding platform.
Blowing the heating, stepping on the riding platform, connecting to the strava platform and riders all over the world.
No matter what you ride, single repair or multiple repair, bicycle is a tool to happiness and health.
As soon as the wheels roll, the financial resources roll.
As long as they are properly preserved, the bicycle can also be used as an heirloom and infinitely upgrade parts.
"Poor play rack and rich play wheel" is not just talking.
Riding handsome or not fast in winter, you need to be armed to your teeth under the wet and cold magic attack of Jiangsu, Zhejiang and Shanghai.
There is no bad weather, only bad equipment.
This winter, we need the temperature and "return rate".
First of all, you should wear a helmet when cycling! Other expensive equipment is secondary.
In winter, it is suggested to choose green, let the traffic flow avoid, let passers-by look sideways and distract the opponent.
You are the most beautiful baby in bleak winter.
Goggles, people familiar with winter sports know that the protection demand for ultraviolet rays in winter is no less than that in summer.
More importantly, wearing goggles can improve your appearance.
Fleece thickened riding clothes + riding pants + riding gloves + shoe covers are necessary for winter riding, which can be increased or decreased according to the principle of "adding a piece of clothes every 12 degrees".
The point is really thin, with temperature and demeanor! Even if he is as handsome as Peng Yuyan, riding in summer has to become a "metamorphosis of perspective tights", but riding in winter is different.
What should be covered should be blocked.
So don't be too self disciplined.
You can eat Hesse for the new year.
You can inadvertently show your lines when the flowers bloom in spring.
Soul accessories: broken wind duck, yes, it's a bathtub.
The little yellow duck wears the same flying propeller as jingle cat.
It's said that it has the attribute of turbine increasing duck.
Rush duck! Spare Kit: torque wrench, spare tire, portable pump…
In fact, if I say, any kit is not as good as "shopping Lala".
In case of mechanical failure or bad weather, it's much cheaper to let a Lala take a car home than taking a taxi.
Other loser products: code meter, power meter, step frequency meter, heart rate band…
Ranging from hundreds to tens of thousands.
In addition, if you don't want to drink ice water at zero, replace the plastic bottle with a thermos, and workers can add Medlar by themselves.
Remember the eight words: find the right position and consume rationally (for the new year, as long as you look good, what kind of bike you want) Xiaobian participated in the cycling race for the first time.
Because he was greedy for snacks in the supply station, he fell from more than 20 to more than 100, and finished the race with a full stomach.
A cup of hot coffee will double the warmth.
I'm used to clocking in a cafe on the way of each ride, which can refresh and help me burn more calories.
If you ride to the suburbs of Hangzhou, those humble rural local restaurants often hide local delicacies.
Hangzhou is not a food desert, but food is difficult to find.
You can write a separate article in the future.
In the cold winter, a team is safer and more atmosphere than one person.
Only with the encouragement of companions can we have the power to climb out of bed.
When everyone drives a small train and breaks the wind in turn, they ride fast and far.
Find an organization and go to see better scenery (eat more corrupt meals) together.
In dry winter, there is more dust on the road.
Give your car a big health care from time to time.
The happiest thing in winter is to bathe your car after strenuous exercise.
Ride your beloved bike through the quiet west lake or countryside.
The cold wind across the cheeks, the exhaled heat formed a wake, and only the rolling wheels, breathing and sporadic bird calls could be heard around.
Dragging his cramped legs to the top of the mountain, the sun breaks through the clouds and dispels the haze in his heart.
Go and conquer a high mountain.
When you go down the mountain, you will be very light.
Please hook up Ben Peng Yuyan in the message area (no), I want to blow you up or be blown up by you! Winter training is willing to bear hardships, and spring is as fierce as a tiger.
Choose the equipment and welcome the year of the tiger with rolling wheels! Text: Pechorin picture: from network design: Kejiu..