Dongguan cycling enthusiasts ride thousands of miles of rivers and mountains to promote the concept of environmental protection
2014; source: Yangcheng Evening news photo: after 128 days, the 10000 mile cycling team arrived at Guanyin Mountain and rode 8000 kilometers through 108 cities – they came from Dongguan Guanyin Mountain Yangcheng Evening News reporter Chang Siwen Photo Report: a Merida mountain bike, a bright yellow riding suit and a pair of shading glasses, An environmental protection volunteer car following behind…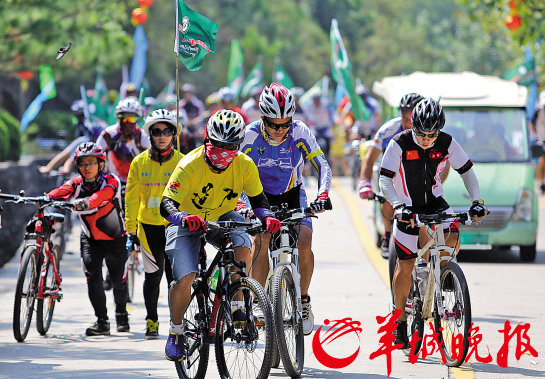 In the past four months, an environmental protection cycling team composed of more than 20 cycling enthusiasts set out from Beijing, all the way south, and arrived at the destination Guanyin Mountain in Dongguan on October 11.
This ride is to promote the concept of environmental protection and low carbon.
Talking about the biggest difficulties encountered on the way, team leader Ji Xiaoqiu told reporters in a hoarse voice, It should be that the riding time span is very long: "our riding team basically rides 70-80 kilometers every day.
Among them, only I have long-distance riding experience, and other teammates are staff from Guanyin Mountain, Dongguan.
When riding for more than a month, my teammates couldn't hold on in terms of body and will, but in the end, they all survived." It is understood that the Wanli cycling group started from Tiananmen Square in Beijing on June 6, crossed 13 provinces (cities), crossed 10 rivers (rivers), passed 108 cities for 128 days, rode nearly 8000 kilometers and ended at Guanyin Mountain in Dongguan.
Along the way, the Wanli Cycling Group carried out activities such as 10000 signatures, ecological protection initiatives, environmental protection lectures, soil and water sampling, public welfare publicity and broadcasting, which attracted extensive participation and attention of local citizens.
In fact, on the first day of riding, Hong Fen, a post-90s girl from Guangdong, wanted to back down, but the girl who had never been far away could finally ride the whole journey.
"On the same day, we rode from Langfang to Tianjin until 11 p.m., with a distance of 100 kilometers.
Because we hadn't been prepared before, we collapsed when we arrived at our destination." After four months of exposure to the sun and rain, Hong Fen's white skin was also tanned.
When she smiled, she only had white teeth, but her eyes showed strength.
"Every time we ride to a city, citizens come to ask us what we do.
When they know that we ride all the way from Beijing to promote the concept of environmental protection, they raise their thumbs and ask for a group photo with us." Zheng Zongshun, a cyclist, is a planner of Guanyin Mountain.
He feels that the encouragement of passers-by is the biggest driving force to support himself.
Dialogue with Huang ganbo "I hope more people establish environmental awareness".
On the 11th day, Huang ganbo, chairman of Dongguan Guanyinshan National Forest Park, held a grand welcome ceremony to welcome the triumphant return of the cycling group.
The reporter learned that as the organizer of the 2014 urban environment and health Wanli cycling activity, Dongguan Guanyinshan not only invested 4 million yuan to ensure the smooth progress of the activity, but also actively participated in the publicity of environmental protection.
As a private entrepreneur, Huang ganbo has always been obsessed with public welfare cultural undertakings.
He told reporters: "as a private enterprise, I feel very honored and responsible to undertake such high-standard environmental protection activities." Huang ganbo said that the reason why he has been paying attention to the ecological environment is also related to the development experience of Guanyinshan National Forest Park.
Since the establishment of the scenic spot, the vegetation and mountain structure of the forest park have been artificially damaged.
Recently, the vegetation in the core scenic area of the forest park was cut down by local villagers.
After the incident, there was no relevant department to protect the scenic area.
He paid more attention to environmental protection and hoped to publicize the awareness of environmental protection…