[cycling theme summer camp] summer cycling season
The summer cycling season of Hantian Peninsula International Exploration camp is suitable for: over 9 years old, young children \ independent camp an invitation letter from the mountain forest a seven day and six night mountain forest cycling challenge are you ready? 101 location of camp information: Hantian Peninsula International adventure camp 02, Tianmu Lake Hantian resort, Jiangsu Province, China quota of camp information: 20 persons in each period 03 camp information suitable for: young children over 9 years old \ independent camp needs to have a basic bicycle riding height of more than 1.35 meters Weight: 30-80kg04 information camp duration: 6 days, 5 nights, 3 days, 2 nights 7-august cost: 6 days, 5 nights 6999 yuan / person, 3 days, 2 Nights 3999 yuan / person cost does not include large transportation, taxes and personal consumption to and from Tianmu Lake.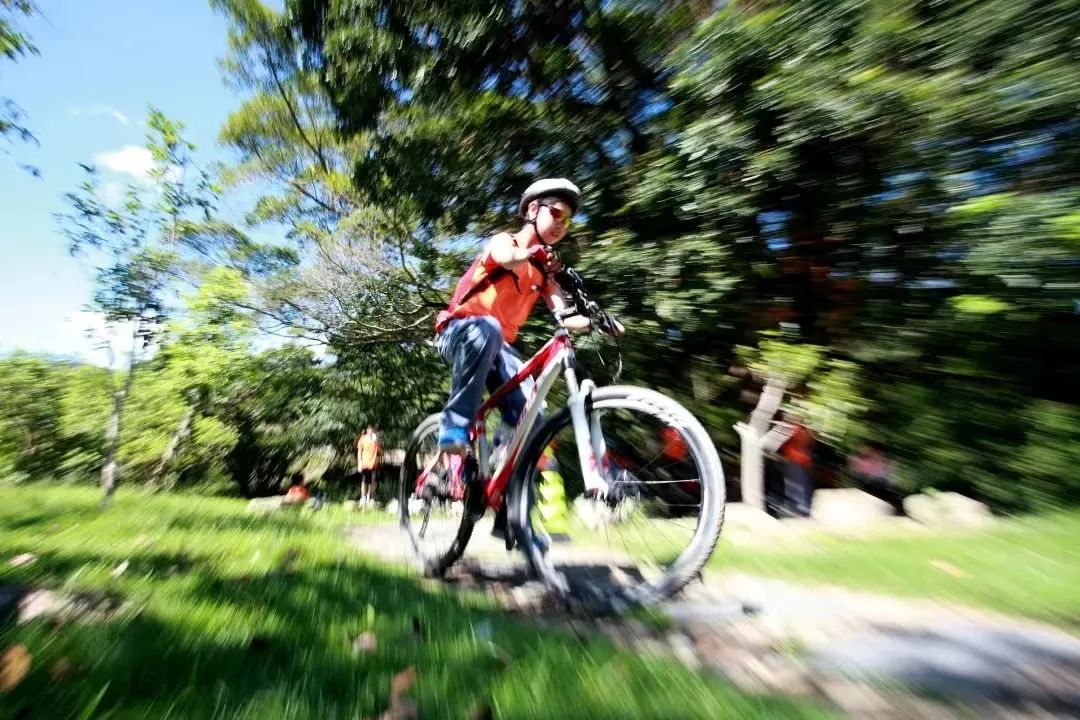 Trip introduction Day1 camp opening, trial riding Day2 riding safety day3 riding skill training, practical training, 10km adaptive riding day4 riding a bike to climb trees, 20km ancient village visit, yellow collar riding shirt competition.
Day5 ride a bicycle to the lake, 50km expedition simulation, climbing red shirt competition.
Day6 assessment, sprint green shirt competition, road book making, camp completion, 6 days and 5 nights course arrangement, 3 days and 2 Nights course arrangement, 100km route characteristics, lake side roads, riding greenways, village roads, asphalt roads and other roads, 300m above sea level riding description at this level, you will ride on various roads, effectively use the brakes to control your speed and understand riding etiquette.
Focus more on endurance and distance when riding.
The 100km new point system is completed by referring to the tour de France bicycle race.
The four major landmark sections are divided into four competition sections, namely, the greenway speed race section, the ancient village riding section, the climbing devil section and the morning riding sprint section.
Through the point system, the team won three honors: the Yellow collar riding shirt, the sprint green shirt and the climbing red shirt.
2.
Children's harvesting skills and physical fitness mountain bike riding skills: no matter on roads, rugged mountain roads, grass and mud, or obstacle avoidance, safety control and team driving, you can easily cope with strong physical fitness: that is, the comprehensive ability of teenagers' physical quality to adapt to life, learning, sports and the environment.
Perseverance and resistance to setbacks in the face of setbacks and difficulties, never give up the spirit of long-distance riding in the sun or wind and rain baptism activities after reflection, better understand yourself.
Exercise multiple abilities through outdoor activities.
Cooperation and self-confidence are here.
In the galloping wheel, what they have grown is not simply their cycling skills, but their growth: believing in their own strength, self adjustment and reconciliation in getting along with everyone, and continuous recognition of themselves.
3 advantages and highlights perfect cycling routes the product team of Hantian Peninsula International Exploration camp has developed more than 10 Tianmu Lake cycling routes.
We look forward to leading the children to explore the unfamiliar corners of nature with a new perspective.
Ride in the mountains and rivers, see the beautiful mountains and rivers on the wheels, truly experience the changes of all things, and feel the heavy marks given by nature.
Professional equipment and coaching team, special project team from vehicle, equipment, logistics support, safety prevention and control system, teaching process system and teacher team.
Continuously optimize and improve the processes, specifications and standards according to the standard configuration of professional teams.
1: 3.
The super-high teacher-student ratio is a solid defense and guarantee for safety and quality.
From basic riding skills training to team cooperation to complete the journey.
Coach group, mechanic group, life health group, logistics group matrix support.
High quality camp will stay in Tianmu Lake Hantian five-star hotel.
A combination of high-quality, nutritious food and local specialties.
Operate the recognized summer camp with high cost performance.
All accommodation is carefully selected by the coach team through field evaluation to ensure a high-quality stay experience.
Why Tianmu Lake Hantian resort Tianmu Lake Hantian resort is a comprehensive resort integrating conference, vacation, tourism and commercial services with the characteristics of "ecology, nature and environmental protection".
Located on the Bank of Tianmu Lake, a national 5A scenic spot, it has a 2.4 square kilometer natural oxygen bar, an exclusive 2-kilometer lakeside line, and is equipped with more than 20 kinds of business, leisure, entertainment and vacation facilities 5.
The four fold security defense line intensive training is conducted in a special period of time and a closed site route.
Targeted intensive training is carried out, and the subject content is comprehensive and practical.
Protective equipment wearing, vehicle control, short-distance pile winding, braking and obstacle avoidance, gear switching.
Ramp skills, curve skills, obstacle skills, team driving, riding gestures, complex road conditions riding and control.
The coach escorts the ride.
The coach team sets up the lead ride, flank escorts and finishing.
Coaches and campers are allocated in a high ratio of 1:3.
They ride and accompany campers in groups according to their physical fitness and age.
There is a pilot service vehicle in the front and a logistics support vehicle in the rear.
The health and logistics service teachers accompany them throughout the whole journey to ensure the safety of riding.
The first aid coach team is equipped with outdoor instructors certified by China Mountaineering Association and AHA first aid teachers certified by American Heart Association.
Every detail is strictly controlled and safe.
Love it as if it were your own.
The protective gear and professional insurance brand riding helmets, protective gear and gloves are matched with the appropriate size according to the body shape, which can effectively protect against accidents.
Buy comprehensive accident insurance and liability insurance for each camper..