100g carbon reduction by cycling can build a rural children's playground, environmental protection corner, meituan public welfare, and carry
Riding meituan bicycle not only supports low-carbon travel, but also does public welfare for rural children.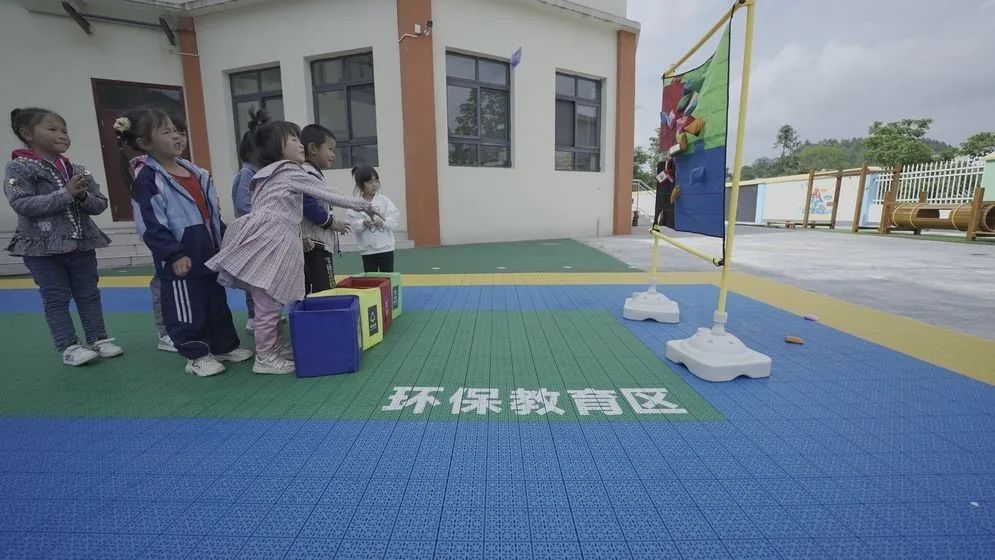 June 13-19 is the national energy conservation publicity week.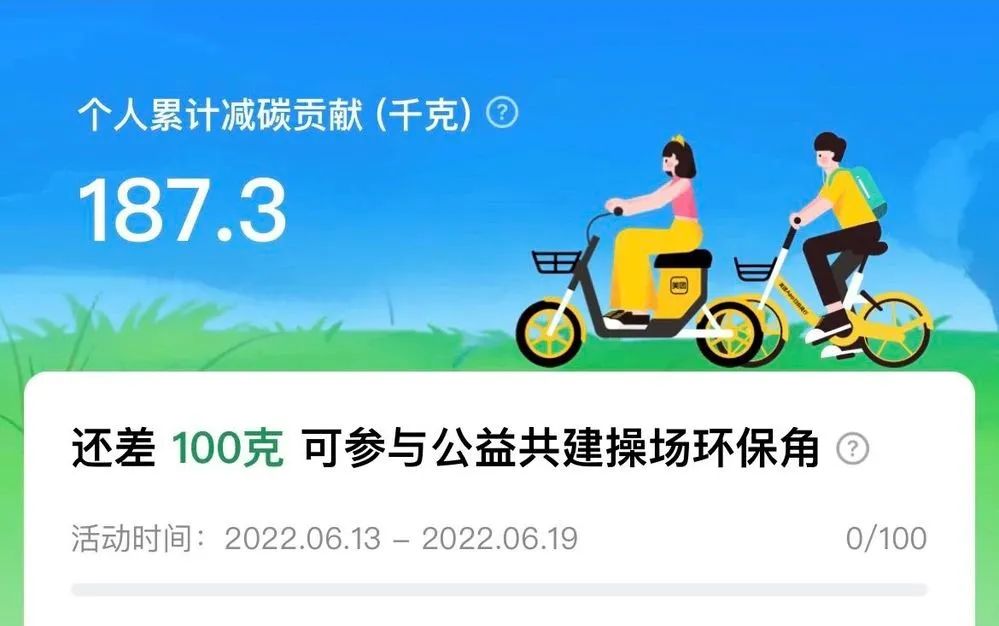 This year's theme is "green, low carbon, energy conservation first".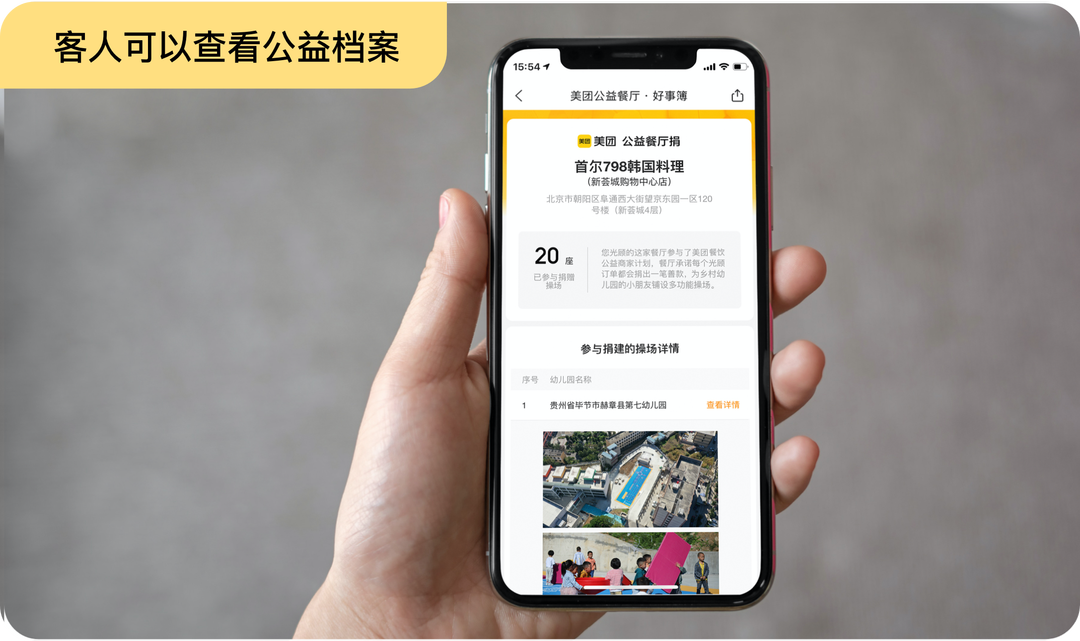 In response to the call for low-carbon travel and integrating green travel into public welfare scenarios, meituan public welfare launched the "carbon reduction contribution · public welfare co construction playground environmental protection corner" activity on the 15th.
In addition to directly donating to support meituan's "rural children's playground" public welfare plan, caring users can also "donate" their carbon reduction through cycling, and become co builders of new public welfare projects.
Recently, public welfare digitalization has become a hot topic in the industry.
Relying on the continuous development of mobile Internet technology and digital platform, the combination of various scenes in daily life such as travel and public welfare has become the exploration direction of some pioneers.
This activity is also a new attempt of meituan commonweal to encourage users to participate in commonweal in a wider range.
In March this year, meituan bicycle and the publicity and education center of the Ministry of ecological environment jointly launched the action of "one person riding to reduce carbon by one ton".
Users can view the carbon reduction report card in the "journey record" of meituan bicycle and continue to accumulate their own carbon reduction results.
The relevant person in charge of the publicity and education center of the Ministry of ecological environment said, "Last year, our center issued the certificate of" people who can reduce pollution and carbon "to hundreds of users across the country.
We found that when green travel has become a travel habit of more and more people, the cumulative amount of carbon reduction in the field of travel is very considerable.
Launching the action of 'one person riding to reduce carbon by one ton' is also a small goal for everyone.
We hope that more and more people will join the ranks of green riding and make positive contributions to the early realization of carbon neutrality." It has not only become a daily way for people to travel, but also achieved the goal of energy conservation and carbon reduction, which has become one of the important measures to help carbon neutrality.
According to the data of meituan bicycles, since the spring of this year, the riding of meituan bicycles and motorcycles has shown an increasing trend.
In just over a month, 25000 tons of carbon has been reduced nationwide.
As of April this year, the cumulative carbon reduction of meituan bicycle and motorcycle users has reached 2.216 million tons, equivalent to the carbon reduction of 425million trees in a year.
Kindergarten children learn about environmental protection through games in the playground environmental protection corner.
The relevant person in charge of meituan public welfare said that the "rural children's playground environmental protection corner" launched this time is a green environment education area composed of 100 splicing floors.
The green low-carbon cycling mileage of users through meituan bicycles and motorcycles is accumulated.
Finally, the meituan public welfare foundation donates money for construction.
Through meituan bicycles, 48.7 grams of carbon can be reduced per kilometer.
During the event, when the individual contribution to carbon reduction by cycling reaches 100g (about 2.1km), he can participate in the "environmental protection corner of rural children's playground" and become a co builder of public welfare projects.
In addition to meeting the children's sports needs, in the environmental protection corner functional area of the playground, teachers can lead children to carry out environmental education activities such as waste classification interactive games, cultivate the environmental awareness of rural children from an early age, and promote the popularization of green ideas in Rural Kindergartens.
Wangxinwei, head of the central kindergarten in Jinlan Town, Qianxi City, Guizhou Province, said, "the children are very interested in the environmental protection corner.
Through the garbage classification games, they not only learn the signs of recyclable and non recyclable, but also experience the impact of environmental pollution, which is very helpful to help them establish their environmental protection concept." In the view of jiangnanqing, Secretary General of the green cycle and inclusive special committee of the China Environmental Protection Federation, the natural low-carbon attributes of shared bicycles and shared motorcycles are conducive to promoting carbon neutrality in the transportation field.
Low carbon development is a cause that benefits the whole people.
To achieve the "double carbon" goal, government departments, enterprises and the public need to form a joint force to promote the public to actively participate in carbon emission reduction and practice a green and low-carbon lifestyle.
In fact, the cycling Co Construction Environmental corner project is an extension of meituan's "rural children's playground" public welfare plan.
Launched by meituan and one foundation, the public welfare program aims to give full play to the connectivity and digital advantages of the platform, drive public welfare businesses and caring users to build a multi-functional playground for kindergartens in underdeveloped areas, and help rural children grow up healthily and happily.
By the end of April 2022, the plan has attracted nearly 150000 businesses and 50000 users to participate, and 245 rural children's playgrounds have been built, benefiting more than 30000 rural children directly.
The reporter learned that a remarkable feature of the project is that it has mobilized a large number of meituan platform businesses and users to participate – the project's donations come from public welfare businesses and caring netizens.
After joining the program, every time a merchant completes an order through the meituan platform, it will automatically donate a small amount of money.
The amount is set by the merchant himself.
The merchant can also view the donation in real time through the background.
When the accumulated donation reaches 20 yuan, you can donate a piece of spliced floor (and related supporting expenses) for laying the playground for rural children.
This approach also meets the demands of many businesses to participate in public welfare through simplification and low threshold.
Users can also simply and conveniently participate in public welfare donations in daily consumption scenarios.
After joining the "meituan commonweal merchant program", the merchant will automatically donate a sum of money to meituan commonweal every time it completes an order.
The relevant person in charge of meituan commonweal said that on the basis of the link platform merchants' participation in the commonweal, meituan hopes to expand the scope of commonweal participation and provide a convenient platform and entrance for more people to participate in the commonweal.
"As a continuous advocate of low-carbon living and cycling carbon reduction, meituan bicycle has also been taking action to call for more people to travel green.
We hope to combine travel scenarios with public welfare activities." Source: the most authoritative and fastest voluntary service information release of the public welfare times, the most reliable and direct voluntary service information source, and the most extensive and effective voluntary service spirit dissemination..